6/22/2009
The vet just called. Prosper died under anesthesia. No probably cause is apparent.

Goodbye, Prosper. Your death is hitting me hard.
Posted by

CROW Cat Rescue
at 4:02 PM
3 comments:

A picture is coming, but I'm putting it at the end of this post in order to give the squeamish a chance to back out before scrolling down.
Prosper is about 10 weeks old, and was just fine two days ago. Now he's got one nasty eye and another that ruptured in no time flat. I called the vet as soon as they opened this morning, and had to leave him behind for surgery. His only options were surgery or euthanasia, and I just can't kill a cat for having a bad eye, no matter how much more affordable an option it might be.
The surgery will cost a minimum of $240, and that is going to hard to find. I'm talking to Alpine about a payment plan for Prosper. If anyone feels compelled to donate and help Prosper, it would be greatly appreciated! Payments can be made directly to Alpine Veterinary Clinic at 719-852-2561 or paypal can be sent to lunamilo1811@yahoo.com.
Now, this is how I found Prosper last night, after he was fine yesterday morning.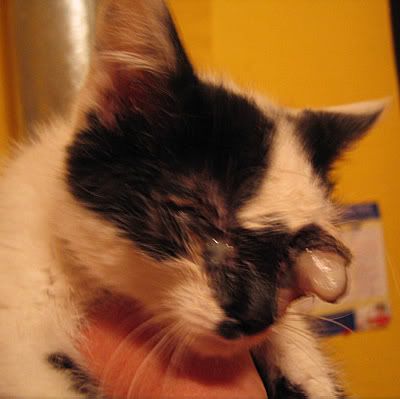 ruptured eye
Posted by

CROW Cat Rescue
at 11:17 AM
1 comment:

6/11/2009
I finally sent off the packet to apply for non-profit status today. Woo!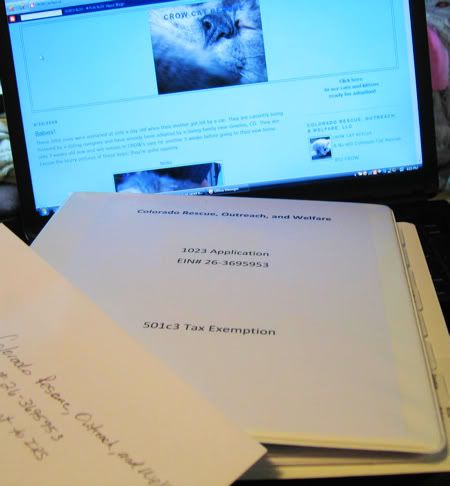 Check out all those pages and tabs!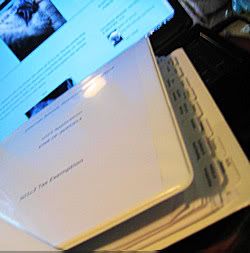 Wish me luck!
Posted by

CROW Cat Rescue
at 5:24 PM
2 comments: