Here she is about 2 months ago, in her sweet beauty.
And here she is now, still sweet and lovable, but also itchy and uncomfortable, and darn near raw between eyes and ears. She has a few other spots on her body, but her head has been hardest hit.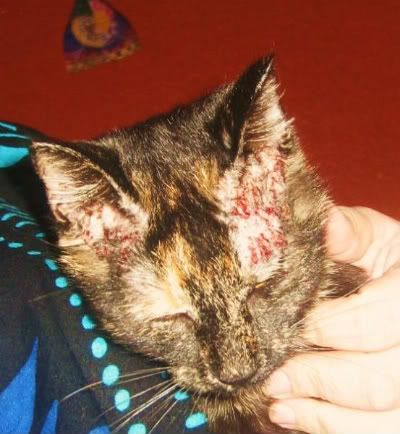 She seemed quite annoyed that I was capturing her current condition on film and has refused to look at me since then. Feel free to reassure her that she's still beautiful.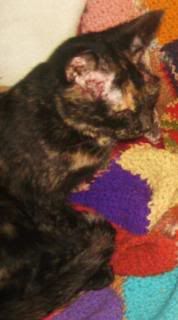 We've had her checked at the vet and she isn't playing host to parasites or contagious in the least; rather, it's a type of allergic reaction. Food is the most likely culprit, so we have her on an elimination diet with special food, and it's a challenge to keep the food separate for all the kitties in her foster home. If anyone is willing to foster her, she is in good health otherwise, spayed, vaccinated, very friendly. She's on antibiotics (oral liquid once a day) and had a steroid shot that should last a couple months. We'd provide food, meds (and training), and check-ups if you can give her a safe and loving home where she can enjoy her fancy food in peace.