Bubba's been around the block. Initially a feral kitten, he tamed easily in a loving foster home. This is him then.
Somehow he ended up with a painful broken tail and ended up back in foster care to recover from having it amputated. He has a couple inches of very expressive tail nub left.
A few months later, he developed an eye ulcer that didn't heal, despite weeks of veterinary treatment. This was the subsequent result:
Yes, he had his eye removed.
Now Bubba is a healthy adult cat with one eye and no tail and an absolutely luxurious coat. He's a bit shy at first, but warms up with one on one time and gets just the tiniest droplets of happy drool when his purr engine really gets going.
These pictures really don't do him justice, but we'll add more when we can.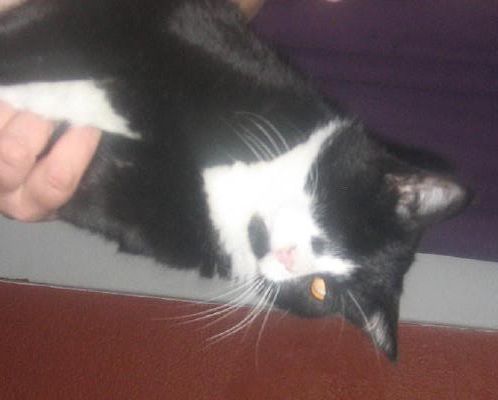 Bubba is full grown, neutered, and would do best in a home without a lot of other animals. He is currently doing fine in a foster home with kids, dogs, and cats, but we feel he would thrive even more someplace a bit quieter with more one-on-one time. He needs to be an indoor-only cat, due to his limited vision.